As for the Sapporo crab market, about 60 stores are closely located in 2lines.
Every day, fresh marine products and agricultural products of Hokkaido are bought in from the next Sapporo Central Wholesale Market.
And we offer them at a cheap price.
The salesclerk is selling face to face taking pleasant communication with a visitor.
The tourist appreciates the act very much.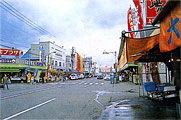 Come to meet the friends of the frank Sapporo crab market!!
About 350 persons are working to the Sapporo crab market.
The individual and interesting salesclerk is delighting the tourist who is doing some shopping.
How about visiting a little shoppings comfortably, since window-shopping may be sufficient?
In the shop, fresh foods are cooked on that spot.
The tourist is very glad.
Since it is cheap, there are many people who buy it more mostly than anticipation.
It is the feature of the Sapporo crab market.
The dispatch base of food of Hokkaido, the Sapporo Central Wholesale Market
Based on Wholesale Market Law, the 17th establishment as the Central Wholesale Market was permitted in the whole country in December, Showa 34.
And the fruit-and-vegetables part started business.
Next, the marine product part started business in Showa 35.
The gross area of the present Sapporo Central Wholesale Market is 83,972 square meters.
Moreover, it opted for re-maintenance of the market main part.
Now, complete reconstruction is advancing.
And redevelopment is performed for activation of a market circumference area.
The transaction volume in the Heisei 15 fiscal year is 508,000 tons in all about vegetables and fruits and fishery.
The important role is played as a base market of perishable food circulation of Hokkaido.
A crab market is very popular.
It is because it is directly linked with the Central Wholesale Market.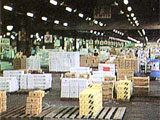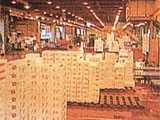 ■Uncanny fresh !!

The goods of Hokkaido which the contractor of the place of production delivered directly are knocked down in the next Sapporo Central Wholesale Market early morning.
Since it is immediately located in a line with a shop front, goods' is very fresh.

■Abundant foods!!

A king crab, a hairy crab, a potato, etc. are full of the delicious foods of Hokkaido in a store.
It becomes the recollections of a travel.
Moreover, they are the best for a present.

■A surprising low price!!

Since it is stocking from the Sapporo Central Wholesale Market, it is a conscience price.
It is OK even if he buys many luxuries.

■Very convenient!!

Since the Sapporo crab market adheres to freshness, all deliveries of those other than Hokkaido are using aviation parcel delivery service.
You can use for a souvenir or exchange of presents comfortably.
Sapporo Central Wholesale Market
Address

2-3 North 11, West 21, Chuo-ku, Sapporo, Hokkaido
060-0011,JAPAN

Tel

+81(011)621-7044

E-MAIL